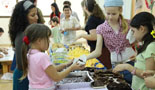 What do we mean when we say that nature is a closed system? To get a deeper understanding of this, we should look at a living example of one – our body.
Every adult human being is composed of approximately 10 billion cells. If we could line these up next to each other, the resulting chain would surround the earth 47 times!
If you ask a doctor what keeps our body in good health, his answer would be: collaboration and harmony between the cells. In a healthy body, every cell must work for the benefit of the whole system, even if sometimes it means working against its own personal interest.
The harmony between cells in a healthy body creates a perfect, amazing machine, and in return, the health of the entire body benefits each and every cell. But there is much more to it! As a result of the harmonious interaction of the cells, every cell participates not only in its personal life, but also in the balance and flow of life of the whole body.
The modus operandi of a cell in the human body expresses the law of relationships which applies to nature as a whole – the stability of every system in nature depends on the mutual relationships between the elements which form it.
What about us, the humans in the world? We simply chase after more money, more property, more power and more personal comfort. So what if it comes at the expense of others? Did someone say "mutual relationship"?
What do you think would happen if a particular cell in the body decided to only look after itself, and take everything it possibly could without taking into account the needs of its fellow cells? There is actually a medical name for this condition: Cancer. It is well known that when cancerous cells multiply, they create a tumor. It is guaranteed that the tumor will be destroyed, but this can happen in one of two ways: either it is destroyed by the body's immune system and medical treatment, or the tumor may destroy the whole body, and in this way destroy itself as well.
If humanity is a closed system, acting as a single body, then a person who acts only in his own interest and ignores the needs of others naturally turns into a cancerous cell within the organism. This is what is occurring today, whether we are aware of it or not. Each person who operates based on self interest causes a lot of trouble for everyone, including himself.
In ancient times, when we were less egoistic, we lived in harmony with nature. But as we progressed, we started to use our environment for our own benefit. We began to reach further and further away for the resources that would make our local life easier. Today, our ability to exploit others has become global. In addition, we created many superficial social systems that have one thing in common: localized self-interest, upon which they are all based.
Now imagine that one of these social systems operating according to narrow interests is a tumor in a huge body called "humanity." Sound scary? Well, this is the reality in which we are currently living. We have created a tumor which has metastasized throughout all of our social systems. Thus, it shouldn't surprise us that today we are beginning to experience the final spasms of these systems.
In fact, Albert Einstein warned us about exactly this in an article he wrote on May, 1949 for the Monthly Review magazine. He predicted the situation we are witnessing today and suggested the only rational solution: "I have now reached the point where I may indicate briefly what to me constitutes the essence of the crisis of our time. It concerns the relationship of the individual to society. The individual has become more conscious than ever of his dependence upon society. But he does not experience this dependence as a positive asset, as an organic tie, as a protective force, but rather as a threat to his natural rights, or even to his economic existence.
Moreover, his position in society is such that the egotistical drives of his make-up are constantly being accentuated, while his social drives, which are by nature weaker, progressively deteriorate. All human beings, whatever their position in society, are suffering from this process of deterioration. Unknowingly prisoners of their own egotism, they feel insecure, lonely, and deprived of the naive, simple, and unsophisticated enjoyment of life. Man can find meaning in life, short and perilous as it is, only through devoting himself to society."